You may think a plumber is only there to unclog your toilet every once in a while, but in fact, these hardworking tradesmen and women do a multitude of things.
A plumber must inspect, modify, install, and maintain the appropriate parts in areas like drains and water systems.
If you want the plumbing to work the correct way in your home or business, then hiring a professional plumber is the right thing to do.
Are you interested in making a living working with your hands alongside construction workers and building with draining systems?
Then having a career as a plumber might be just right for you.
Sponsored Listings
Find what you're looking for
---
What is a Plumber?
Plumbers work day in and day out to plan, install, and modify draining and water systems.
You can find a plumber working on toilets, sinks, drains, and other plumbing issues.
Typically, a plumber works on new house builds as well as older homes and emergency situations.
Besides maintaining water systems and drainpipes, a plumber must carefully work alongside other individuals in the construction field in order to maintain codes.
In order to make sure that a home or business is up to code, it's important that a plumber is good at math and knows how to create and read blueprints.
It may seem that a plumber only works with sinks and drains, but in fact, they do much more.
Duties
Plumbers work hard piecing pipes together in order to create water systems, but they also do many other things:
Create blueprints
Work alongside architects
Test pipes for leakage
Cut, fit, and measure pipes
Clear drains
Take estimates
It's possible to have a specialty as a plumber, such as pipe fitting, pipe laying, and steam fitting.
---
Salary
The work of a plumber is considered a specialty trade, and as such the average salary for a plumber in the United States is around $57,000 a year.
However, those that are just starting out in the field can expect a salary of around $43,000 a year.
With experience, certifications, and specializations, it's possible to earn as much as $73,000 as a plumber in some areas.
In order to have the potential for higher salaries, look for jobs as a plumber in areas with larger populations.
Plumbers that have advanced education and competence in the field will likely make more money than plumbers with less knowledge.
Average National Salary:
$57,000
Average Plumber Salary by State
| State | Salary |
| --- | --- |
| Alabama | $53,767 |
| Alaska | $64,325 |
| Arizona | $56,732 |
| Arkansas | $52,921 |
| California | $64,095 |
| Colorado | $57,210 |
| Connecticut | $62,087 |
| Delaware | $60,251 |
| Florida | $54,513 |
| Georgia | $55,517 |
| Hawaii | $60,205 |
| Idaho | $54,158 |
| Illinois | $58,931 |
| Indiana | $56,062 |
| Iowa | $54,914 |
| Kansas | $54,455 |
| Kentucky | $53,996 |
| Louisiana | $54,972 |
| Maine | $55,316 |
| Maryland | $59,164 |
| Massachusetts | $62,431 |
| Michigan | $57,428 |
| Minnesota | $58,701 |
| Mississippi | $50,009 |
| Missouri | $54,780 |
| Montana | $52,107 |
| Nebraska | $52,710 |
| Nevada | $58,918 |
| New Hampshire | $58,343 |
| New Jersey | $63,551 |
| New Mexico | $52,538 |
| New York | $61,677 |
| North Carolina | $54,837 |
| North Dakota | $53,975 |
| Ohio | $56,125 |
| Oklahoma | $54,032 |
| Oregon | $57,251 |
| Pennsylvania | $57,366 |
| Rhode Island | $60,585 |
| South Carolina | $53,802 |
| South Dakota | $49,204 |
| Tennessee | $52,222 |
| Texas | $56,445 |
| Utah | $54,459 |
| Vermont | $55,354 |
| Virginia | $57,136 |
| Washington | $61,390 |
| West Virginia | $50,928 |
| Wisconsin | $56,619 |
| Wyoming | $51,158 |
* Salary information last updated 2023
---
How to Become a Plumber
Step 1

Earn a Diploma

In order to find work as a plumber, you will need to have a high school diploma.

The best candidates to be a plumber have a strong foundation in math and the sciences.

Some classes that an aspiring plumber should think about taking in high school are drafting and blueprint reading.

Although there is no degree required in order to become a plumber, it is important that while you are still in high school you work to earn good grades.

Many vocational or trade programs only accept people who have good ACT scores, as well as good grades throughout high school.

Another important factor to remember when looking for programs is that you must be at least 18 years old to enter.
Step 2

Enter a Trade Program

If you have already graduated high school with good grades and excellent math skills, it's time to look into a training program.

There are many universities and trade schools that provide online and in-person classes for plumbing, pipefitting, and steamfitting.

Throughout the years, plumbing has become more advanced, which means there is a need for more education in the field.

Some of the things that you may learn in a typical trade program for plumbing include:
Basic principles
National codes
Hot and cold water delivery
Interpreting drawings
Soldering techniques
Pipe system design
Management
Budgeting
There are several classes that will teach an aspiring plumber how to own a business as well, which can help if you decide you would like to work for yourself in the future.
A typical training program takes around two years to complete, and if you add an apprenticeship you may be able to graduate more quickly at around 18 months.
Step 3

Complete an Apprenticeship

An apprenticeship gives students the hands-on experience that they need in order to become great Plumbers.

Whether through a trade program or through the Plumbing-Heating-Cooling Contractors Association, an apprenticeship is considered a paid learning experience.

In many states, it is required that a student acquire an apprentice license before they are able to work.

Depending on where you live and the requirements of your state, this information can vary.

Check with your state boards for more information.

Some of the things that you can learn through an apprenticeship are as follows:
Plumbing fundamentals
Piping systems
Blueprint reading
Chemistry
Pipe system design
Cutting and welding pipes
Inspecting and diagnosing issues
Repairing plumbing fixtures
This type of experience is designed to help students and new plumbers learn on-the-job training with supervision.
Most apprenticeships require at least 250 hours and as much as 2,000 hours of work before graduation.
It can take as much as five years to finish an apprenticeship.
Step 4

Gain Licensure

After gaining many years of experience as an apprentice, it's time to become a licensed journeyman plumber.

In order to obtain licensure as a journeyman, it's required to show proof that you've:
Completed a minimum of five years working in the industry as an apprentice
Passed the journeyman level exam
The journeyman exam is provided to show the competence of plumbers in their field.
Most states require plumbers to take this test and pass it before they can work as a plumber.
On this test, you can expect to find questions on:
General laws
Clean water service pipes
Sterilizer installation
Lavatory faucet installation
Medical piping
Safe working habits
Cost reduction methods
Water conservation law
There are 125 questions on this exam, which is an open book exam.
Scheduling for the exam is different depending on the state in which you live.
The test can cost around $150-$200 to take, but this can vary as well.
Contact your local board of directors to find out more information.
---
Education
There are a couple of different avenues that an aspiring plumber can pursue.
He or she can either earn a Bachelor's degree or begin a trade program to earn a certificate.
Either one works, and both will land you a job as a plumber when finished.
A Bachelor's degree can take around four years to complete for the average student.
It's even possible to earn a Bachelor's degree online nowadays, however, it's important to remember to gain hands-on experience through an apprenticeship.
With a Bachelor's degree, students will also find that they are working in courses on a wide variety of subjects.
With a trade school, however, a student studies only what is essential to their trade.
In a plumbing program, which can last around two years, students work in classes as well as through hands-on experience to gain the required experience.
There will be many topics covered throughout the program, but many of the typical ones are:
Installation and testing of pipes
Plumbing codes and regulations
Drain waste and vent systems
Accounting
Project Management
Backflow principles
Potable water and gas piping systems
Once an aspiring plumber has graduated from a program, and sometimes even during their education, an apprenticeship is required.
An apprenticeship will allow for a student or new plumber to work with experienced plumbers in order to learn the tricks of the trade, in real situations.
Most apprenticeships take around 5 years to complete, so that is why many students start their apprenticeship while still studying.
In order to graduate from an apprenticeship, you'll need at least 250 hours in the field.
Some of the duties required of an apprentice include the following:
Installation and repair of pipes
Testing pipes
Cutting, welding, soldering, and fitting pipes
Issues like leaking, breakage, and clogged pipes
Inspecting
Diagnosing issues
After five years, an apprentice plumber can earn a certification to become a journeyman plumber.
Video About The Career
---
Licensing
In order to work legally in the United States, a plumber must become licensed.
There are several levels of licensing, and they are as follows:
Apprentice License
Journeyman License
Master Level License
An Apprentice License allows a plumber to work under supervision for up to five years.
In order to obtain this license, you must have graduated from a plumbing program or be currently enrolled.
Once you have gained experience with an Apprentice License, it's time to upgrade to the Journeyman License.
In order to be eligible for this license, a plumber must:
Provide proof of a completed required number of years as an apprentice
Pass the journeyman exam
The exam is around 125 questions and is provided in an open-book format.
There are many testing sites around the country, so contacting your local board will help you determine when you can take the exam.
Some people decide that they want to work toward a Masters License, which can take five to seven more years to obtain.
In order to gain this certification, one must:
Have an active journeyman license in good standing
Pass the Master level exam
This exam is much like the journeyman exam, except with harder questions, and provides proof that the exam taker is proficient in the field of plumbing.
The state laws for licensure differ from state to state as well.
Some of the topics that may be covered on a Master Plumber license exam include the following:
Administration policies and procedures
General regulations
Indirect and select wastes
Venting
Water supply and distribution
Sanitary drainage systems
Piping and storage systems
Water heaters
Storm drains
Fuel gas
After 4-6 weeks, you will receive your exam results.
Passing exams will show how many questions you were correct on, and failed tests will show a report of strengths and weaknesses.
Once you have passed the Master exam, you can work as a Licensed Master Plumber.
Both the Journeyman and Master licenses must be renewed every three years.
Certification Example: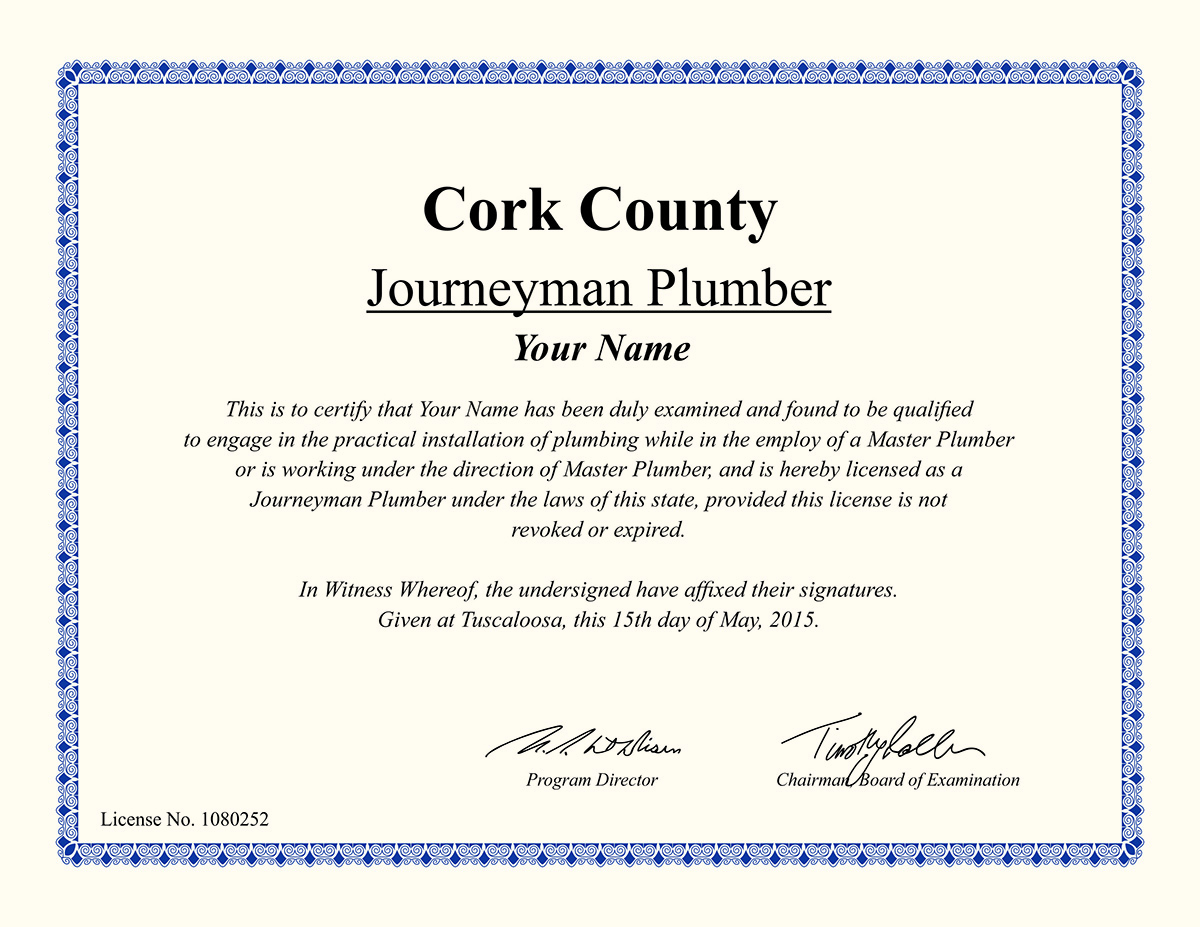 Average Training Program Duration:
2-3 Years
The average training program in order to become a plumber takes around two years to complete.
If you add an apprenticeship into your education, then it can take as little as 18 months to finish a program.
However, some people do work toward a Bachelor's degree in plumbing, which can take around four years to complete.
It depends on how much education, experience, and hands-on training you want out of your education.
An apprenticeship must last up to five years as well.
---
Popular Programs
Sponsored Listings
---
Job Outlook
If you are looking to start a career as a plumber, rest assured that the career is expected to rise around 14 percent in the next ten years.
This means that more jobs will be available than ever before.
Most demand for plumbers will be due to new construction over the years.
As the population grows, more people will need homes, plumbers work with architects and construction workers in order to build homes to code and that will stand the test of time.
Employment Growth Projection:
14%
That's a higher than average projected growth of 68,300
---
Should You Become a Plumber?

Overall Satisfaction:
Low
Mostly, it seems that plumbers are the least happy employees out of many careers in the United States.
Although it is possible to make good money working as a plumber, often people find it difficult to earn experience in order to make the big bucks.
There is not much upward mobility, which can be discouraging.
The stress level is about average for most careers in the same field, but the career has a great home/work-life balance.
If you are interested in a career as a plumber, it's important to remember that most of the time you will be working alone and must be organized on competent in the career.

Average Salary:
High
The average salary for a plumber in the United States is near $57,000 a year.
While most plumbers, especially those who are attending apprenticeships or have just started their careers, will likely make a bit less.
The average for beginning plumbers is typically around $43,000 a year.
After many years of experience, certifications, and specializations, it's possible for a plumber to make $73,000 or more a year.
Plumbers who work in highly populated areas generally have higher salaries than those working in rural areas.

Job Growth Outlook:
High
Over the next decade, the career opportunities for plumbers will be on the rise.
This career will likely gain momentum and rise around 14 percent.
On average, this is much more than many other careers in the construction field.
The rise is due to many people building new homes and businesses, as well as new technology and piping systems available.
Many older plumbers will also be retiring over the next ten years, making more room for new plumbers to join the crew.

Education Duration:
2-3 Years
It is possible to earn a Bachelor's degree to become a plumber, but many people decide that they would rather go to a trade school.
A Bachelor's degree can take around four years to complete, and it's also possible to earn a Master's degree in Plumbing after that.
A trade school program typically takes around two years to finish but can be around 18 months when working an apprenticeship as well.
The length of the program you enter can vary depending on whether it's online, in person, at a university, or a private program.

Personal Skills Needed
Plumbing requires the use of your hands and often times getting into small or confined spaces.
It takes a detail-oriented person to become a Plumber, and some other traits that are necessary for this career are as follows:
Mechanical know-how
Problem-solving skills
Computer knowledge
Compliance skills
Ability to follow directions
Teamwork skills
Communication skills
Personable
Reliability
Physical fitness
Safety skills
Plumbers often work in emergency situations or on the weekends in order to fix drain and pipe problems for their customers.
Having a friendly demeanor and providing excellent customer service will make for a great plumbing experience for everyone involved.
---
Frequently Asked Questions
Q. What is the average salary of a Plumber?
In the United States, it is typical for a plumber to make around $57,000 a year.
Most Master Plumbers or ones with a lot of experience can expect a larger salary, at around $73,000 or more depending on the population of the area in which they work.
New plumbers or plumbers under an apprenticeship will likely make less money, at around $43,000 a year.
Even though it may take some time to work up to a larger pay scale, it is worth it in this field.
Q. How long does it take to become a Plumber?
Most plumbing programs take around two years to finish.
However, those that work while going to school, through an apprenticeship, can finish school in as little as 18 months.
While working in an apprenticeship, plumbers are able to learn through hands-on experience working with Journeyman Plumbers.
An apprenticeship can take up to five years, which is how long is required to become a Journeyman Plumber.
Q. What does a Plumber do?
A Plumber is responsible for making sure that all water and pipe systems in a home or commercial building are up to code and working the correct way.
Sometimes, a plumber may be called out for an emergency which means they will need to inspect, fix, or install pipes or drains.
Plumbers are also expected to work with construction workers and architects in order to keep buildings up to code and functioning in order.
Q. What is the demand for Plumbers?
Plumbing is something that most everyone needs, and because of that there will likely always be a demand for plumbers.
As of now, it looks like this career will rise around 14 percent within the next decade.
That's a lot more than other construction or trade jobs, and that is due to technological advancements and the need for more buildings and homes.
If you are interested in becoming a plumber, now is the time to get started.
Q. How much does it cost to become a Plumber?
The average cost for an online plumbing program is around $800-$1,000.
For a Bachelor's degree in plumbing, it can be quite a bit more at around $15,000 to $30,000.
An apprenticeship in plumbing can cost anywhere from $0 to up to $1,000 for five years.
If you are looking to take an exam, they can range from $250 to $500.
---
Plumbing Information by State

---
This page is also available in Spanish.