Hot, bustling, and full of life, San Diego is one of the largest cities in California.
The economy and business sectors are in full bloom and they offer excellent opportunities.
The schools and programs are high-quality and you will easily get the perfect program for you.
Sponsored Listings
Plumbers annual average salary in California is $64,095 - ABOVE U.S. AVERAGE!
PHCC San Diego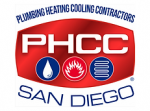 About the School
The heart of the San Diego PHCC chapter beats at the same pulse as its original founders, and even now, more than a century later, the importance and excitement of the PHCC mission have not been diluted.
That mission is to advance and educate the plumbing and HVACR industry for society's health, safety, and comfort and to protect the environment.
Today, the Academy stands strong and steadfast with terrific staff, an improved curriculum, and a growing number of hands-on labs.
Courses Offered
The plumbing program will prepare you for an excellent vocational career in the private or public sector.
The PHCC Academy of San Diego's Four-Year Journeyman Plumbing Apprenticeship Program is federally accredited by the U.S. Department of Labor Office of Apprenticeship, making its students federally registered apprentices.
In each of their four years in the program, students complete 156 hours of classroom instruction and 2,000 hours of on-the-job training.
With its earn-as-you-learn model, students must be employed by an actively licensed plumbing (C-36) contractor for the duration of the program.
As their Year 4 Final Exam, students may take the California PHCC Journey-Level Certification Exam to earn their well-deserved PHCC Journeyman Card.
Visit School Website

Address: 9920 Scripps Lake Drive, Suite #102, San Diego, CA 92131
San Diego City College

About the School
San Diego City College has as its highest priority student learning and achievement.
The college provides lower division and general education courses that lead to certificates, associate degrees or transfer to a four-year college or university.
It also offers career technical education programs that meet specific industry needs, upgrade the employment skills of students, and fulfill licensing requirements of the state of California as well as contribute to the economic development of the region.
Courses Offered
The plumbing program at the San Diego City College is one of best in the school catalog.
In the program's introduction to plumbing, students will learn plumbing codes and residential plumbing drawings, identifying various types of pipe and the procedures for working with the pipe.
In the program's intermediate phase on plumbing, students will learn the ability to perform testing of water supply piping and systems, installation of the components of a water supply system, and the ability to read and interpret commercial plumbing drawings for project requirements according to local and national codes.
Furthermore, in the advanced level of the plumbing program, students will learn the ability to organize job tasks, clean and disinfect potable water systems, thaw frozen pipes, install main to meter water services and solar systems.
You will learn theory and hand-on training that will help you get started in your career in the plumbing industry.
Visit School Website

Address: 1313 Park Boulevard San Diego, CA 92101-4787
San Diego College of Continuing Education

About the School
San Diego College of Continuing Education is a multicultural institution dedicated to providing educational access and lifelong learning opportunities to our community.
Its commitment is to all learners, who bring diverse academic skills and life experiences.
It offers innovative, high quality instruction and student support services.
San Diego College of Continuing Education commits to student success and community enrichment by providing tuition-free, accessible, equitable, and innovative quality education and support services to diverse learners in pursuit of lifelong learning, training, career advancement, and pathways to credit college.
Courses Offered
If you are committed to getting into the plumbing industry, you need to check the plumbing program at the San Diego College of Continuing Education.
To become a plumber's assistant you can enroll at their three-step program.
In the first phase of the program you will learn source determination, water distribution, waste removal, pressure adjustment, basic physics, technical math, blueprint reading, pipe installation, pumps, welding and soldering, inspection, and applicable codes and standards.
In the second phase of the program the focus is on the latest adopted Uniform Plumbing Code , which is the model plumbing code adopted by the State of California, and published by the International Association of Plumbing and Mechanical Officials.
During the last phase of the program you will undergo advanced training including the layout, design, and size of piping systems, specialized systems, public relations, tests, coding, and inspections (including solar), plumbing math, and safety requirements.
You will also learn to use saws, rigid chain cutters, thread-o-matics, triangles, T-squares and scales.
Each step or phase of the program lasts for 18 weeks or 120 hours for 7 hours a week.
Visit School Website

Address: 4343 Ocean View Boulevard San Diego, CA 92113-1915
---
Plumber Schools by City in California
See all schools in California >