The City of Angels is famous all over the globe for its unique atmosphere and amazing vibe.
The economy of this city is one of the strongest in the whole country and it offers great opportunities.
The educational facilities in L.A. are among the best in the country and it will upgrade your career in no time.
Sponsored Listings
Plumbers annual average salary in California is $64,095 - ABOVE U.S. AVERAGE!
Los Angeles Trade Technical College
About the School
Los Angeles Trade Technical College offers one of the biggest selections of vocational and technical programs in the whole Los Angeles area.
Los Angeles Trade-Technical College advances communities through pathways to academic, career, and transfer success that empower students to achieve career technical certificates, associate degrees, transfer, and employment.
All its programs are designed with the help of professional workers that perfectly know the needs of the future professionals and the requirements of the employers.
It aims to be a premier community college recognized regionally and nationally for transforming students' lives and their communities.
Courses Offered
The plumbing program is an excellent choice if you want to have a technical career.
By fulfilling the program requirements, students will have the necessary knowledge and skills for a career in residential, commercial, and industrial service and repair or construction plumbing.
Reading of blueprints, layout, estimating, installation of piping systems and fixtures, repair of supply and waste water systems are just some of the skills that will be mastered during this program.
Students enrolling in this program should be able to commit to full-time student status, which is approximately 24 hours per week.
This time commitment is necessary to allow for hands-on training with the laboratory applications used during the course of instruction.
Visit School Website

Address: 400 West Washington Blvd, Los Angeles, CA 90015
Los Angeles City College

About the School
Los Angeles City College offers online open enrollment programs designed to provide the skills necessary to acquire professional level positions for many in-demand occupations.
Its programs are designed by a team of professionals from each respective field, providing you with effective web-based learning programs.
Instructors/mentors are actively involved in your online learning experience, responding to any questions or concerns, as well as encouraging and motivating you to succeed.
Courses Offered
If you want to work as a plumber, the Foundations of Plumbing course will teach you the fundamental, job-ready skills relevant to the plumbing and piping industry.
You will learn specialized plumbing skills and terminology for residential, commercial, and industrial plumbing systems.
In addition, this course teaches the math, geometry, and physical principles needed to work on plumbing systems.
In this self-paced course, you'll learn how to work on modern plumbing systems from in-depth course material developed by industry experts and employers.
By course completion, you will possess the specialized skills and technical knowledge needed to start a career in plumbing.
Visit School Website

Address: 855 North Vermont Ave. Los Angeles, CA 90029 US
PHCC Los Angeles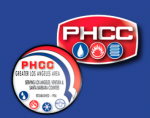 About the School
Since 1968, the Plumbing-Heating-Cooling Contractors of the Greater Los Angeles Area has conducted training programs to provide skilled personnel to meet the needs of the PHC industry.
Its programs provide training at both the apprentice and journeyman level, with classes held during evening hours, allowing students to complete a full work day gaining on-the-job experience and putting their training to practice.
Its combination of "Hands-On" training and classroom theory under the supervision of its field-experienced instructors has proven effective in preparing its graduates with marketable job skills.
Courses Offered
In PHCC Los Angeles there are four levels to its plumbing program.
The first plumbing level lasts for 145 hours and introduces the trainee to many career options available in today's plumbing profession, among others.
The second plumbing level lasts for 175 hours and teaches trainees how to interpret and use civil, architectural, structural, mechanical, plumbing, and electrical drawings when installing plumbing systems, among others.
The third plumbing level lasts for 157.5 hours and introduces trainees to the math concepts they will use on the job, including weights and measures, area and volume, temperature, pressure, and force, among others.
The fourth and last level lasts for 127.5 hours and introduces trainees to concepts and practices that are essential for competitive, successful plumbing businesses, among others.
You will learn all the theory and hands-on training you need to get into the plumbing industry.
Visit School Website

Address: 2869 Glenview Ave Los Angeles, Ca. 90039
---
Plumber Schools by City in California
See all schools in California >