San Antonio is famous all over the United States for its dynamic and warm atmosphere.
The economic stability of this great city is amazing and you will find excellent job opportunities.
The educational system of Texas is high-quality and you will discover this in San Antonio, too.
Sponsored Listings
Plumbers annual average salary in Texas is $56,445 - ABOVE U.S. AVERAGE!
St. Philip's College

About the School
St. Philip's College, founded in 1898, is a comprehensive public community college offering associate's degrees and certificates, whose mission is to empower our diverse student population through educational achievement and career readiness.
As a Historically Black College and Hispanic Serving Institution, St. Philip's College is a vital facet of the community, responding to the needs of a population rich in ethnic, cultural, and socio-economic diversity.
St. Philip's College creates an equitable and inclusive environment, fostering excellence in academic and technical achievement, while expanding its commitment to diversity, opportunity and access.
Courses Offered
The Plumbing Trades program provides learners with a well-rounded education in construction principles and best practices with an emphasis on real-world hands-on learning experience in all facets of the plumbing industry.
Learners design and build plumbing systems from the ground up (both residential and commercial) and have extensive knowledge of plumbing repair.
They will participate in various service-learning plumbing projects that will prepare learners for a fulfilling trade profession in plumbing.
Graduates from the Plumbing Trades programs are work-ready for a variety of craft trade professions in the plumbing industry including Superintendent Plumbing Contractor, Estimator, Warehouse Rep/Supervisor, Plumbing Sales, Superintendent, Plumber's helper, Lawn Irrigation Specialist, Lawn Irrigation Technician, and Plumber's Apprentice.
Upon completion of the Plumbing Trades Certificate students will have 1,000 hours toward their plumbing license, received an OSHA 30 card, and will have help finding a career with a great plumbing company.
Visit School Website

Address: 1801 Martin Luther King Drive San Antonio, TX 78203
UA Local 142

About the School
San Antonio's Local 142 is one of 300 locals that are part of the United Association of Journeymen and Apprentices of the Plumbing and Pipe Fitting Industry of the United States and Canada.
There are roughly 350,000 highly-skilled United Association members who belong to regional local unions across North America.
Its plumbers, pipefitters, HVAC techs and welders have built, repaired, or renovated many of San Antonio's past and present landmarks as well as some of it's future historical structures.
Courses Offered
Apprentices attend school in the fields of Pipefitting and Plumbing during the evening, two nights a week from September to May.
Apprentices work at their chosen trade during the day and get paid while doing it.
Work and learn alongside Journeymen performing Plumbing and Pipefitting.
Apprentices can be male or female and must be at least 18 years of age.
Apprentices must have a high school diploma or a GED and the apprenticeship program is for five years.
Visit School Website

Address: 3630 Belgium Ln San Antonio, TX 78219-2506
PHCC Texas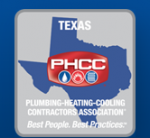 About the School
PHCC Texas proudly provides Texas State Board of Plumbing Examiners approved plumbing continuing education, trade classes, test-prep course and more.
Its instructors are qualified, experienced, and professional.
Year-round classes are generously discounted for all PHCC members and their employees.
PHCC Texas takes great pride in its reputation as not only a leading provider of continuing education, but also as a strong advocate working on behalf of the plumbing, heating and cooling industry.
Courses Offered
PHCC Texas's exciting plumbing apprenticeship training programs are challenging the old methods of training to offer young people the kind of training they want and need.
In the CEF program, the plumbing apprentice will attend class for four ten-hour days once each quarter for the full year.
In the San Antonio PHCC program, a night school format is followed.
Instructors leads students through a comprehensive 4 year curriculum that includes both classroom and hands-on training.
Graduates qualify to sit for Master exam just one year following Journeyman license attainment.
Visit School Website

Address: 145 Trademark Dr Buda, TX 78610
---
Plumber Schools by City in Texas
See all schools in Texas >