Bustling, cool, and full of life, Detroit is one of the most famous cities in the United States.
The economy is in full rise and together with the business sector, it offers great jobs and opportunities.
The schools and colleges are great and they offer a wide variety of programs perfect for anyone.
Sponsored Listings
Plumbers annual average salary in Michigan is $57,428 - ABOVE U.S. AVERAGE!
Macomb Community College

About the School
Macomb Community College perfectly understands the need for growth and the economic stability of all its students.
The programs are designed and developed to give you the perfect career in a very short time and to help you get a job as fast as possible.
All its facilities and resources are designed to give you a very efficient and relaxing stay.
Macomb Community College aims to be a leader in higher education, improving society through innovative learning experiences that create pathways for personal advancement and drive economic vitality.
Courses Offered
The plumbing and pipe-fitting program will make you an independent professional in a short time.
In MCC's Applied Technology and Apprenticeship program, the courses are taught by plumbers and pipe fitters who have worked or are currently working in the field.
Their practical knowledge will be an asset as you learn the tools and techniques of the trade.
You will learn about the following:
Fittings and valves
Pressure gauges
Pipe calculations
Valve installation and maintenance
Drainage flow and proper venting
The certification at the end of the program will get you ready for the state exam and financial independence.
Visit School Website

Address: 14500 Twelve Mile Rd, Warren, MI 48088
Detroit Training Institute of Technology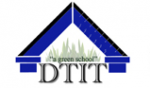 About the School
The Detroit Training Institute of Technology is a Green Building trades school that was established in 2006.
Its mission is to prepare unemployed and dislocated workers to meet the growing demand for skilled trade workers in the construction industry.
Its primary goal is to combine state of the art classroom training with hands on learning experiences that prepare students for in demand occupations in the building trades.
Its curriculum includes certificate programs in Building Maintenance with Custodial Services, Carpentry, Plumbing, Electrical Wiring Residential, Heating & Cooling (HVAC) and Green Building Construction.
Courses Offered
Students interested in becoming a professional plumber will benefit greatly from attending our Modern Plumbing course.
Students will be taught the plumbing codes and requirements necessary.
The class will teach both the theory and the practical applications through hands on training.
In the four months of class students will develop the skills necessary to become a successful plumber.
Upon completion students will receive a certificate and will enter its job assistance program.
Visit School Website

Address: 14701 Harper Ave Detroit, Michigan 48224
Randolph Career and Technical Center

About the School
Randolph Career and Technical Center offers a variety of programs related to the trades and technical industry.
Its program catalog and curriculum are one of the best and the instructors' expertise are based on real life experience from which you will learn all the theoretical knowledge and practical skills you will need and more.
If you are looking for a training center that will help you become a skilled professional in a technical field, Randolph Career and Technical Center will provide you with high-quality education.
Courses Offered
The Plumbing and Pipefitting course will prepare students to assemble, measure and construct piping and plumbing systems.
Students will learn to install, repair, and replace piping systems.
Students will fabricate piping materials for water, gas, drain, waste, and vent systems by installing hot water tanks, appliances, and fixtures.
They will also learn how to lay-out plans for plumbing systems, maintain plumbing equipment, rough in piping systems, and install hydronic heating systems.
You will learn all the necessary theoretical knowledge and acquire the best practical skills and tricks of the trade to thrive in the plumbing industry.
Visit School Website

Address: 17101 Hubbell Street Detroit, MI 48235-3942
---
Plumber Schools by City in Michigan
See all schools in Michigan >