Renowned all over the world for its amazing atmosphere, New Orleans is one of the best cities in Louisiana.
The economy recovered a lot in the past years and you will find many interesting jobs.
The schools and colleges in New Orleans are excellent and they provide excellent programs.
Sponsored Listings
Plumbers annual average salary in Louisiana is $54,972 - ABOVE U.S. AVERAGE!
New Orleans Pipe Trades

About the School
New Orleans Pipe Trades is one of the best educational trade schools in the whole country.
The trade school has gathered some of the best teachers, educators, and trainers that will shape you into an amazing professional.
The resources are top-notch and the education and standards are consistently of high quality.
Courses Offered
An amazing technical program in this school is the plumbing one.
The Plumbers and Steamfitters JATC has a training program consisting of classroom instruction (two nights per week, two semester per year) and on-the-job training.
A plumber is a skilled crafts-person that designs, estimates, installs, services and repairs pipe systems that convey water, waste drainage, natural and medical related gases.
They join pipes and install fixtures and appliances such as: bathtubs, toilets, dishwashers, and water heaters.
Often they design these systems or they may work from blueprints and drawings.
They have the very important job of proctors of the public by helping to keep water safe.
Apprentices earn raises every six months through completion of courses and excelling in job performance.
Upon successful completion of the five-year program, the apprentices become journeyman as plumbers.
Visit School Website

Address: 2541 N. Arnoult Rd. Ste. 122 Metairie, LA 70002
Delgado Community College

About the School
Delgado Community College is a diverse, dynamic, open-admissions community college providing high-quality education through innovation and excellence in teaching and learning.
The College offers a variety of academic and workforce programs through the Associate degree and is committed to nurturing and sustaining an inclusive culture to support student success.
Delgado aspires to cultivate lifelong learners; become the academic and workforce catalyst that empowers the communities it serves; and develop transformative partnerships that foster growth, diversity, knowledge, and sustainability.
Courses Offered
If you want to work as a plumber, the Foundations of Plumbing course will teach you the fundamental, job-ready skills relevant to the plumbing and piping industry.
In this self-paced course, you'll learn how to work on modern plumbing systems from in-depth course material developed by industry experts and employers.
You will learn specialized plumbing skills and terminology for residential, commercial, and industrial plumbing systems. In addition, this course teaches the math, geometry, and physical principles needed to work on plumbing systems.
By course completion, you will possess the specialized skills and technical knowledge needed to start a career in plumbing.
Visit School Website

Address: 615 City Park Avenue New Orleans, LA 70119
PHCC Louisiana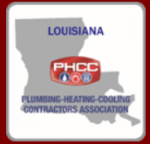 About the School
The Plumbing-Heating-Cooling Contractors Association is dedicated to the advancement and education of the plumbing and HVACR industry for the health, safety and welfare of society and the protection of the environment.
PHCC provides legislative advocacy, education and training to approximately 3,300 plumbing and HVACR open shop and union businesses and 65,000 technicians.
Its members work in the residential, commercial, new construction, industrial and service and repair segments of the construction industry.
Members of PHCC have access to a wide variety of resources and services, strengthening their reputation as the best choice for professionalism, reliable products and knowledgeable service and as a proud protector of public health and safety and the environment.
Courses Offered
PHCCLA is proud to provide an the apprenticeship program approved by the Bureau of Apprenticeship and Training.
This program is overseen by the Louisiana State Department of Labor to prepare prospective plumbing professionals for state regulated testing and licensing.
The term of the apprenticeship shall be a period of approximately 8000 hours of employment and training on the job, supplemented by the required hours of related instruction.
A minimum of 144 hours per year (72 per semester) of instruction time is required.
These hours are considered separate from on-the-job work hours.
Apprentices should maintain satisfactory attendance and grade levels to continue in the program.
Visit School Website

Address: 620 Florida St., Suite 210 Baton Rouge, LA 70801
---
Plumber Schools by City in Louisiana
See all schools in Louisiana >